A Gentleman's Flavor Cook Off
A Gentleman's Flavor was held Saturday, May 4, 2019 at the Royal Palm Beach Commons located at 11600 Poinciana Blvd. Royal Palm Beach, Florida 33411.
Upscale Studio, Inc. brought you our all male cookoff, better known as A Gentleman's Flavor. This event showcased the culinary expertise of distinguished men from Palm Beach County. The men flawlessly presented their one special dish to guests and judges.
Guests had the pleasure of enjoying delectable creations prepared by the men while the judges took on the task of choosing the winner of each category.
There was plenty of food, raffles, vendors, a cash bar and great music

Thanks again for joining us for a delightful, fun filled evening for a great cause! For next year's event and your convenience use the online buttons below for registration and payment.
A Gentleman's Flavor benefit is a sizzling success..
…on to the Youth Leadership Exploration Retreat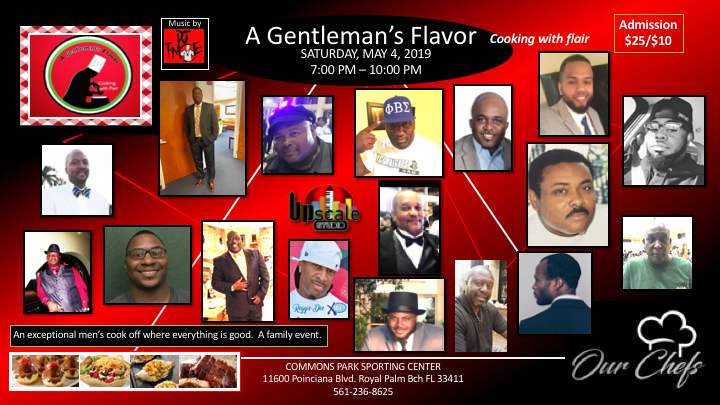 A Gentleman's Flavor benefit is a sizzling success..
"Cooking with flair"
A Gentleman's Flavor is a family celebration featuring men volunteering to cook for and serve the community. Each participant prepared bite-size samples to serve more than 100 guests.
Chef participants were stationed around the venue according to specific food categories (i.e., meat, starches, vegetables, desserts, salads, etc.). The food sampling, warm family atmosphere, entertainment, and friendly competition from our gentleman chefs was absolutely fantastic!